The Danish society has reopened
Will social life resume in the churches?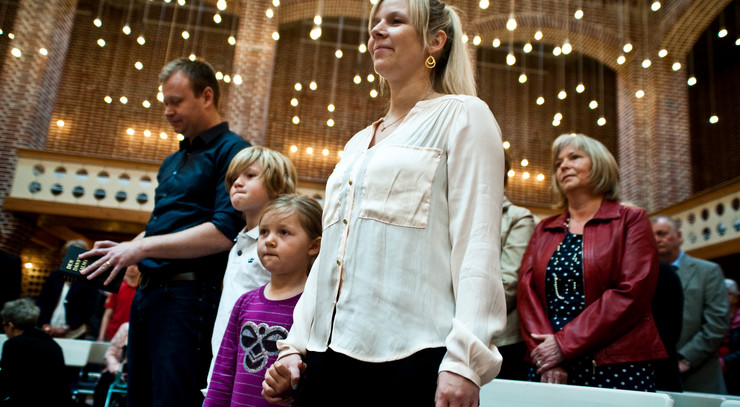 No masks, no corona passports and no restrictions limiting public and social gatherings. As the restrictions are removed, society is once again open and available for us to enjoy.
On paper, we can now resume the life we knew before we had any idea of a worldwide pandemic coming our way from a food market in China. But after two years of being at the mercy of the virus, it can prove difficult to undergo such a drastic change overnight.
Peter Skov-Jakobsen, Bishop of the Diocese of Copenhagen, calls the reopening of society "a great liberation", and he remains optimistic on behalf of the church. But he admits that we can hardly expect full houses starting from Sunday.
"I think we have to be kick-started again. Over Christmas, we also saw fewer people in church than we had expected. But the longing to gather and be together should not be underestimated", says Bishop Peter Skov-Jakobsen.
Our minds must be freed from anxiety
According to the bishop, we must unlearn our concerns and worries about physical contact which have lived in our minds since the first press conference rolled across our screens in 2020. We must help each other return to the communities as they were before the pandemic.
"Two years ago, the much talk of fear manifested an anxiety in our minds and in our lives. It was, undoubtedly, important that we understood the seriousness of the situation, but the anxiety manifested in people can and has to be removed again. Now we must help each other regain a natural and anxiety-free attitude when socializing with each other", says Peter Skov-Jakobsen.
The National Association of Parish Councils also welcomes the fact that we once again are able to gather without masks and without the controversial corona passport, which has led to discussions in some places in the church. However, chairperson Søren Abildgaard does not expect the number of churchgoers to increase significantly in the first period after the removal of the restrictions, and he believes that extra efforts must be made to get people back to the churches and parishes.
Specifically, he believers that the old habits must be shaken up.
"It is necessary to make an effort in order to return to normal. It is about habits, and during the pandemic, our habits have become distant. It is important that we try to rediscover the joy of meeting people face to face. The churches have to be aware that this is a challenge that needs our assistance. It is not enough to post on websites or social media. There will be some people in the parishes that we need to contact personally to say that it is safe to return to the church", notes Søren Abildgaard, who is also a part of the corona taskforce of the Evangelical-Lutheran Church in Denmark.
We will appreciate the community more from now on
In conjunction with this, Søren Abildgaard further believes that the church can benefit from the crisis by reconsidering what it has to offer, and what habits it might need to retire alongside face masks and corona passports. In connection with this, he especially points to the activities in the parishes.
"It is a community that has suffered a lot during the various lockdowns. In some places, they may have discovered that the very fact that the habit was broken has made it easier to remove it in order to make room for something better. The crisis is also an opportunity to consider what is really needed", he says.
According to Bishop Peter Skov-Jakobsen the church's role is far more implicit when it comes to refilling the pews. Quite simply, the church must be there, he believes.
"The role of the church is to reopen the doors with the positive consequence of people being able to gather once again. And the church must be a conversation partner for many people, because if there is anything we know a thing or two about, it is anxiety and hope. We can create a confidence in the future", says Peter Skov-Jakobsen, who hopes that we will appreciate the communities more in the future.
"My hope is that we will appreciate each other to a much greater extent than before. And that we remember how important it is to be together. Going to church does not mean that I get to speak to a hundred people, but I am with other people, and I appreciate that", Peter Skov-Jakobsen concludes.
This article is a translation of Charlotte Kongsgaard Nielsen's article "Nu åbner samfundet - men er vi klar til fællesskabet?". Read it on Folkekirken's official website here.