The Danish Church declares its support for Lebanon
The Danish bishops have sent a letter of solidarity to the churches in Lebanon after the explosion in the country's capital Beirut. Read about how you can support the hard-hit city below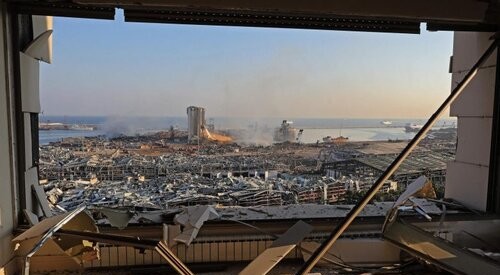 In August violent explosions in a warehouse building in the harbor area of Beirut shook the city and the world. According to the Lebanese security authorities the explosion was due to 2750 tons of confiscated ammonium nitrate. The city is in shock. A third of Beirut is destroyed, 177 people have died, 6000 were wounded, and the economic consequences are dire.
The Evangelical Lutheran Church in Denmark has shown its support in this extraordinary situation. After the explosion the Danish bishops sent a letter of solidarity expressing deep sympathy and condolences to the long-suffering population of Lebanon underlining the fact that there is a special bond between Denmark and Lebanon. The letter was sent to the churches in Lebanon via The Middle East Council of Churches (MECC), an ecumenical organization in Beirut, that has received donations from Danish churches for several years, thereby responding to the appeal issued by MECC for support for the country in the middle of a severe crisis.
Several collections have been organized in the churches in Denmark, among others via Danmission and DanChurch Aid. Lebanon has a big need for outside help and contributions big or small. You can support via Danmission or Dan Church Aid.
You can also send a contribution to The Middle East Council of Churches (MECC) and the diaconal work of churches in Beirut ( among other things food supplies, vital medicine and Covid-19 protective equipment)