Paneeraq from Attu
In the largest diocese of the Kingdom, Greenland, the 43-year-old Paneeraq Munk has begun her episcopate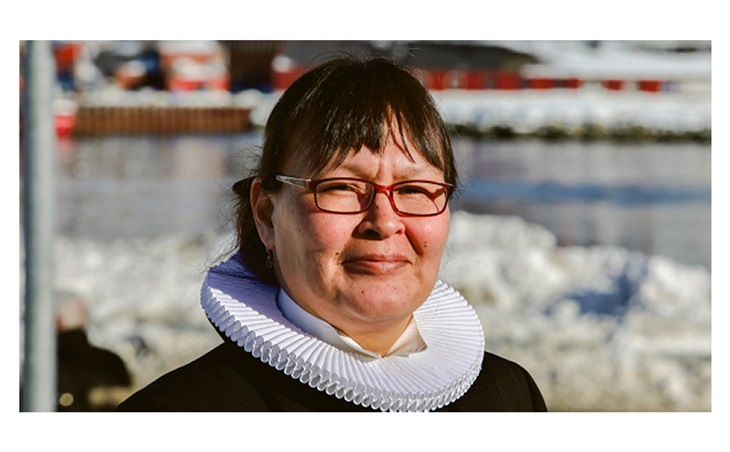 In the spring of 2020, Sofie Petersen announced that she was to retire by the end of the year after having been Bishop of Greenland for 25 years. The election for a new bishop was held on September 2, and 254 eligible voters could now cast their vote at one of a total of 68 polling stations. Paneeraq Siegstad Munk took office on December 1, 2020. Unfortunately, the consecration has yet to be held, due to the current corona restrictions, but it is expected to be held as soon as it is possible and safe to gather in large numbers for a festive consecration in church.
Paneeraq Siegstad Munk is from Attu, she holds a bachelor's degree in theology from Ilisimatusarfik, the University of Greenland, and in 2017 she completed her master's degree at the University of Copenhagen. In 2004, however, she decided to take a break from her studies in order to become a priest, and she was thus ordained that same year. Since then, she has worked as a priest in several different cities, and since 2017, she has been Dean of Provsteqarfik Kujataa. She has also been chairperson of the Greenlandic Clergy Association. As Bishop of Greenland, Paneeraq Siegstad Munk furthermore has a seat on the Council on International Relations of the Evangelical Lutheran Church in Denmark.
The church in Greenland achieved status as an independent diocese with their own bishop under the Danish National Church in 1993 and has since 2009 been under the Greenlandic Parliament. Almost 95 percent of Greenlanders are members of the Danish national church known as the Evangelical-Lutheran Church in Denmark.
Hans Egede
For the past year, Hans Egede and the 300th anniversary of the colonization of Greenland has continuously created debate. 300 years ago, the missionary Hans Egede disembarked on the shore of the Island of Hope and thus created the starting point for the colonization of Greenland and the introduction of Christianity on the island.
The question of whether the anniversary should be celebrated or not is a matter of opinion. The day was not officially marked by Naalakkersuisuts (The Greenlandic Government) or Kommuneqarfik Sermersooq (The metropolitan borough).
"It demonstrates that there is a need to put these matters into words. That's why I welcome the debate. But on the part of the congregation, we will always appreciate it when there is no division among people and when everything takes places in a safe manner. It must be a peaceful debate", says Paneeraq Siegstad Munk, who herself has mixed feelings about the Danish-Norwegian missionary who came to Greenland in 1721.
"I have several different opinions about Hans Egede. I've had that since I was a student. Sometimes I've been angry with him, and sometimes I think it was brave of him to missionize in a country he didn't know to a people who spoke a language he didn't understand. I would also like to thank those who helped bring Christianity to Greenland, because they contributed to giving us a peaceful life", she says.
According to traditional practice, the Nuuk parish council laid a wreath at the Hans Egede statue in the capital and held a service afterwards followed by lectures, speeches, and coffee in the town hall.
"The customs change over time. I cannot decide what the politicians should think. I just want to remind people that there still are many Greenlanders who celebrate the day", says Bishop Paneeraq Siegstad Munk
And now, 300 years later, the church still holds great significance, the bishop believes:
"There are no other places in Greenland that gather this many people. It's important to preserve it. It's also important that the population today helps to shape the congregation of the future. I hope it's something I can be a part of", says Paneeraq Siegstad Munk.